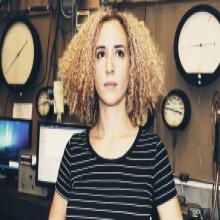 EXPERIMENTAL PLANETARY SCIENCE AND DATA SCIENCE
Postdoctoral Researcher, Geophysical Laboratory, Carnegie Institution for Science
Asmaa Boujibar is a Carnegie Fellow from NASA Johnson Space Center. She is interested in the origin of the chemical heterogeneities of extraterrestrial material and the formation of terrestrial planets of our Solar System and exoplanets from beyond. 
She uses various techniques to tackle these questions, including laboratory experiments, modelisation and big data analytics. She uses machine learning algorithms to evaluate the classification of meteorites and their components. Also, by performing high pressure and temperature experiments and numerical modeling, she replicates the conditions of
 core segregation and magma ocean crystallization. She received her Ph.D. in Earth and Planetary Science from the University Blaise Pascal in France.